US Mortgage Lenders Loan– Our sole purpose is help fill the gap where bank lending restraints have left many mortgage applicants without access to the best financing and service. Our private mortgage lenders allow us to structure a mortgage that meets your specifications. Florida first time home buyers  and current Florida home owners the ability FHA mortgage a Florida  home with less than 3.5% down payment or FHA refinance  a Florida home  up to 96.5% of the home value. Research Florida home loan programs which help you to buy a Florida home. Also, learn about FHA minimum credit requirements, or get pre approved today. Florida-Mortgage-Lenders.com will show you the advantages of how to qualify for an Florida FHA mortgage if you have bad credit ,  no credit or a Florida mortgage with collections and judgements!VA Mortgage lenders along with our Federal Government has taken to help veteran home buyers, and specifically, those who are Veterans and Active Duty personnel. The Mission of VA Mortgage Lenders is to help veterans and active duty personnel purchase and retain VA mortgage in recognition of their service to the Nation.

NON QM mortgage lenders provide Self employed mortgage applicants the option to use  12- 24 months personal or business bank statements for income. Must have a Min. 2 years history of self employment required. Other non qm option include asset only mortgage lenders use 100% of amount needed to amortize loan plus monthly debts for 60 months (Cash-out not allowed) Lease agreements in lieu of schedule E are treated as ALT Doc.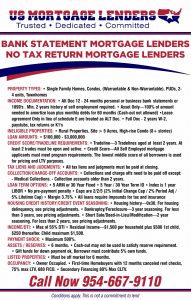 1 year self employed mortgage lenders approved borrowers that can verify self employed income.
No Income verification mortgage lenders
The FHA mortgage loan can help current homeowners and First Time Home Buyers so they can Buy A Home with less than 3.5% down. Current homeowners can also FHA Refinance a current home mortgage up to 96.5% of the home's value. Within this website, you can explore FHA, VA, Specialty Bank Statment Only Loan Programs including Bad Credit or No Credit that allow you to buy a home little or No Money Down. You can also learn about the FHA qualifications and requirements.
US MORTGAGE LENDERS – KEY HIGHLIGHTS
FHA/VA MORTGAGE LENDERS – 3.5% Down with a 580 fico. 100% VA financing with a 580 fico. FHA/VA Manual Approvals when you bank says NO! We say Yes! Purchase 3 years after Foreclosure, 2 years after a chapter 7 Bankruptcy. 12 months after a chapter 13 bankruptcy.
BANK STATEMENT ONLY MORTGAGE LENDERS –NO TAX RETURNS NEEDED! Use 12 or 24 months, business or personal bank statements. 90% max LTV, NO MI.  FICO scores as low as 580.  Multiple accounts allowed.  USE UP TO 85% OF DEPOSITS WITH BUSINESS BANK STATEMENTS!
ONE YEAR INCOME VERIFICATION MORTGAGE LENDERS – Qualify income with just 1-year of recent W2 + YTD paystub OR self-employed 1-year tax return.  Max LTV 80%.Must be in business for at least 2 years!
BAD CREDIT MORTGAGE LENDERS–  Recent Foreclosure, Bankruptcy, and Short sale allowed.  Mortgage lates ok.  Min FICO 580. 
RECENT CREDIT EVENT –  Recent Foreclosure, Bankruptcy, and Short sale allowed.  Mortgage lates ok.  Min FICO 580.
FHA MORTGAGE LENDERS INFORMATION
FHA MORTGAGE LENDERS APPROVALS WITH MINIMAL DOWN PAYMENT AND CLOSING FEES:
Down payment only 3.5% of the purchase price.
Gifts from family or FHA Grants for down payment assistance and closing costs OK!
Sellers can credit the buyer's up to 6% of sales price towards buyers costs and pre-paid.

No reserves or future payments in account required.

FHA regulated closing costs.

Read more about buying a home with an FHA mortgage Bad Credit –No Credit – Investment –Second Home –Multi Family – 
FHA MORTGAGE LENDERS MAKE QUALIFYING EASIER BECAUSE YOU CAN PURCHASE:
12 months after a chapter 13 Bankruptcy FHA mortgage Lender approvals!
24 months after a chapter 7 Bankruptcy FHA mortgage Lender approvals!
3 years after a Foreclosure FHA mortgage Lender approvals!
No Credit Score FHA mortgage Lender approvals!
580 required for 96.5% financing or 3.5% down payment FHA mortgage Lender approvals.
500 required for 90% financing or 10% down payment FHA mortgage Lender approvals.
Bad Credit with minimum 500 FICO credit score with 10% Down Payment FHA. For FHA mortgage applicants with credit scores between 500 and 579 must make down payments of at least 10% down!
Read more about FHA Qualifying Qualification Summary – Manual Underwrite – Collections-Judgement's – Bankruptcy or Foreclosure – Compensating Factors –