BAD CREDIT NO TAX RETURN MORTGAGE LENDERS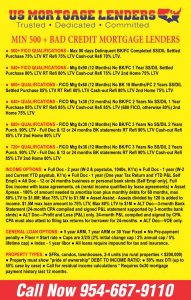 Because these Bad credit  home loans are insured by the government, FHA  Mortgages allow mortgage applicants with bad credit issues to get attain a bad credit Florida mortgage on a home of their choosing. These "Bad Credit  Mortgages" are not as expensive as some other mortgages, and their relaxed guidelines help Florida homebuyers every day. Ever wonder how to buy a  home with poor credit, or how to purchase a home with bad credit? Many  mortgage loan applicants don't realize that FHA mortgage loans can help Florida homebuyers with bad credit. If you have a bad credit past and your looking for a Florida mortgage we may be able to help with one of the following: 
Non QM and Private Lenders for Bad Credit Mortgage Applicants
There are a few routes you can take when it comes to home financing with a less-than-great credit score. Nonconventional loans are a great option for many clients because they feature low down payments and have flexible approval requirements.
FHA loans are insured through the Federal Housing Administration, a division of the U.S. Department of Housing and Urban Development. This insurance encourages lenders to approve a wider range of clients, including those with bad credit. We can approve clients for FHA loans with scores as low as 580 (with 3.5% down payment) or 500 (with 10% down payment).
VA loans are insured and regulated through the U.S. Department of Veterans Affairs. The VA does not have a minimum credit score requirement, which allows lenders to approve borrowers based on their own credit requirements. Typically, we like to see clients have at least a 620 credit score for VA home loan approval.
The Most Important Factor When Applying For A Bad Credit Mortgage 
When it comes to qualifying for a bad credit mortgage lender, your last 12 months payment history is critical. While it's important to pay your bills on time your last 12 months housing payment history is paramount when trying to qualify with bad credit mortgage lenders.
Subprime Mortgage Lenders For Bad Credit Mortgage Applicants 
Subprime loans are another type of mortgage alternative for clients with bad or poor credit and other bad marks on their financial history. They traditionally have a higher interest rates than conventional home financing, although rates are increasingly competitive. You may be able to secure a subprime loan with a credit score lower than 660. We can determine quickly if you're eligible for subprime lending.
Hard Money Mortgage Lenders
Hard money loans are not approved based on a borrower's credit or financial worthiness, but rather on the value of a property being financed. Also known as hard equity loans, these mortgages are commonly used as temporary loans for clients who are flipping homes or until a borrower can improve his or her credit and refinance. Like subprime loans, hard money loans have higher interest rates than conventional loans, but they can provide the financing you need at the right time for the right home.
Compensating Factors For Bad Credit Mortgage Approvals
As a rule, you are more likely to secure a bad credit mortgage lender with bad credit even if you have compensating factors to motivate the bad credit mortgage lender. Compensating Factors Include:
COMP FACTORS-   Acceptable compensating factors are limited to the following.
DOES THE BORROWER HAVE THE FOLLOWING?
3 months future payments in account at closing. 

New mortgage payment no more than 100 or 5% higher than current verified 12 months rental history.

Verified and documented significant additional income that is not considered effective income.

Residual Income

–

Take total gross monthly income for all occupying borrowers