If you are self-employed, contract worker, business owner, consultant, or entrepreneur with plenty of bank deposits then we can help you get approved for a bank statement only mortgage with no tax returns required. You do not have to submit any tax returns or financial statements other than your bank statements. Self employed bank statement mortgage applicants must prove that they have been in business for 1+ years  to purchase a new home or to cash-out refinance.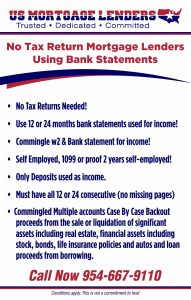 How do I qualify For A Bank Statement Only Mortgage Loan?  
12 or 24 Months Personal or Business Bank Statements OK

Commingle w2, 1099 income for qualifying!

Minimum 10% Down Bank Statement only mortgage lenders!

Purchase or Refinance cash out or rate and term No Tax Returns Needed!

You be Self Employed for at least 1+ years!

Use up to 90% of Deposits for income! 

Up to $3,000,000 Loan Amounts!

Primary and second homes only.

No PMI mortgage insurance..

30 Year Fixed or ARM Rates.
What Documents Do I need for a Bank Statement only Mortgage?
Proof of income = Your most recent 12- or 24-months bank Statements Business or Personal bank statements EVERY PAGE EVEN BLANKS in PDF labeled by month.
PDF proof of down payment statement= 2 Months Bank Statements to source funds..
Proof of 2 years in the same business or line of work = To include business licenses or satisfactory evidence of self-employed to cover previous 24 months that could include: Articles of incorporation, 2 years of 1099 s, Business license more than 2 years or accountant letter stating more than 2 years in the same business.
Obligations = Divorce decree, Child support or court order required payment statements. Only if applies.
ID = Driver's license, SS Card.
Mortgage Statements = For rental properties including taxes and insurance statements. Only if applies.
W2 or 1099= If you have separate W2 or 1099 income you would like to use to qualify please provide.
Purchase and Sale Contact. Only if you have one.
Verified Timely Rent Payments- For Purchases Only – Please send front and backs of checks clearing your account or wire transfer's for the most recent 12 months to verity timely rental payments.
How is Bank Statement Income Calculated? 
The income calculated for a bank statement only loan depends on where your income goes. If your using personal bank statements to qualify you can use 100% of your bank statement deposits. If your using business bank statments to qualify for a mortgage lender will examine your bank statments to determine an expense ratio.  Large one time deposits or transfers would need to be sourced to verity business income.  We would look at a minimum of the 12 months of bank statements and average the monthly deposits. It's possible to use 24 months deposits and get a better interest rate. 
What is a Bank Statement Loan?
Bank statement loans have taken over the traditional Bank Statement income loans as an alternative for self employed Florida mortgage applicants who are unable to verify their income by providing the previous two years tax returns, W2s and pay stubs. These loans are called non-QM loans, nontraditional loans or expanded criteria loans that allow other forms of documentation to prove the ability to repay. Just as it sounds, a bank statement loan allows the borrower to verify his or her income with bank statements
Eligible for a bank statement loan:
You must prove self-employment for a minimum 2 years.

Must provide proof of 12-month rental history or and 3-6 months future payments in reserves.

You must have at least 10% down.

You must have 4-6 months of PITI reserves

You may qualify with as little as a 12-months bank statement.

You must have a credit score of 600 or above to qualify.

The minimum loan amount is $100,000, and the maximum loan is $5,000,000.
What Are the Advantages of a Bank Statement Loan?
In summary, these are the advantages of a bank statement loan:
The lender can look at 12 or 24-month bank statements.

30 Year Fixed Options.

Bank statement only mortgage lenders do not need to look at your tax returns.

Your income statements are made up of the average monthly income deposits.

You can get a bank statement home loan for as little as 10 percent down.

You can do a cash-out refinance.

You can borrow up to $5 million.

Debt to income ratio up to 55 percent.
Eligibility Requirements for a Bank Statement Mortgage Loan?
Eligibility for a bank statement requires total deposits minus disallowed deposits. This amount is then divided by the number of bank statements, whether it is the 12 or 24 months statement.
Another option is that if the co-borrower is a W2 employee you can use a hybrid of W2 and tax return income from the co-borrower and bank statement income from the borrower or assets from the co-borrower and bank statements from the borrower. Non-QM loans can use multiples sources of blended incomes to qualify.
Deposits which are disallowed in regards to a bank statement loan include transfers between bank accounts and cash or large deposits, which can raise a level of concern and may require a letter of explanation.
Special Considerations By Bank Statement Mortgage Lenders
You can use either business or personal no commingling.

Use 12 months business bank account or personal account depending on the lender.

Deposits which are transferred from a business account into a personal account are OK.

You may combine W2 income with bank statement income as long as the income is not being counted twice.

Foreign Bank Statements and Foreign Assets may be considered and must be translated to English.
What Else Do I need To Know  About Bank Statement Only Mortgages?
To utilize a bank statement mortgage lender for financing you must be able to prove you are self employed.  That means either you have 1099's, registration or incorporation or some type of verification. You also need to have been in the same line of work for at least 2 years. This means you could be 1099 for 1 year and w2 for the previous year, but in the same line of work for at least 2 years.  In order for us to verify that you have been self employed for the last 2 years we need to show that a business has been incorporated for that long through the state or that you have held a license of some sort within your industry. A letter from a licensed  CPA  accountant to verity how long you have been self employed would be required. Remember we are not looking at your tax returns, because we are only using the deposits in your bank account.
The Bank Statement Loan Application Process
To apply for a bank statement loan you would fill out our full mortgage application. Then provide your last 12 or 24  months' worth of bank statements from a personal or business bank account. Bank statement mortgage loans are processed through a manual underwriting process. This means the income is calculated by a person so the process can take 24 -48 hours.