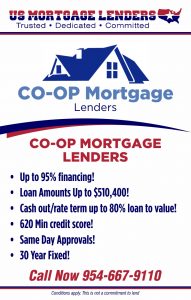 CO-OP Mortgage Lenders – CO-OP Mortgage Refinance

CO-OP MINIMUM & MAX LOAN AMOUNTS
• $100,000 minimum loan amount. Exceptions considered on a case-by-case.
• Co-oP Mortgage Lenders  amount exceptions over $4,000,000 available.

CO-OP MORTGAGE LENDERS CREDIT REQUIREMENTS
• 620 middle score required with some exceptions allowed for lack of credit or unestablished credit.
• For  co-op mortgage applicants and co-mortgagers, the lowest mid-score is used for pricing and qualification.
• Meeting the minimum credit score requirement does not automatically constitute a credit approval. A pattern of
adverse credit or overextended credit may disqualify co-op mortgage applicant from financing, even if the minimum credit score is met.
• Credit report is used for Pre-Approval and co-op mortgage lenders will also pull credit before issuing a conditional
approval. Mid-score from co-op mortgage lenders credit pull is used for pricing and qualification.
No Credit or Limited Credit
• No credit or limited credit profiles are allowed on a case-by-case basis for U.S. citizens.
• No U.S. credit or credit score is required for the Work Visa/Expatriate/Immigrant Program or Foreign National Program
CO-OP MORTGAGE LENDERS OPTIONS INCLUDE:

Primary  Co-op Mortgage Lenders

Second Home  Co-op Mortgage Lenders

Investments  Co-op Mortgage Lenders

Cash Out Co-op Refinancing

Second  Co-op Home Financing

Jumbo  Co-op Loans

Low  Co-op Closing Costs

Up to 80 Percent Co-op Mortgage Loans
CO-OP MORTGAGE MAXIMUM DEBT TO INCOME
Maximum CO-op Mortgage Lenders Debt To Income Ratio • 43% maximum back-end ratio.
WHAT IS A CO-OP MORTGAGE AND HOW DO I GET ONE?
A Co-op or cooperative apartment is an individual living unit within a Co-op building or development where a buyer purchases shares (equal to the value of the unit) in a Co-op corporation that holds title to a building Coops are predominantly located.  Normally a  Co-op sponsor will buy the building (takes out the underlying Co-op mortgage) and then will sell off the shares.  Therefore, when buying a coop, you are actually buying Co-op shares in a corporation, not buying real property.
ABOUT COOP MORTGAGE LENDERS
You can buy a condo, but you will never own your  coop. It's important for  coop buyers to know the difference between a condo and a Coop before you make a coop purchase. You can find tons of  condos but coops are less common. Either way, you need to know the difference before you buy a  coop. The biggest difference determines the property taxes you pay, and the type of loan you will get. And, If you get a home loan on a coop you will not be a property owner and the lender does not place a mortgage lien on your coop. You can not buy a coop, instead become a shareholder in the corporation that owns the building. This means you cannot get a mortgage lien against your coop. Instead, you must obtain a  coop home loan. In addition, you must be approved by the coop board before you can become an investor in the corporation that owns the coop building. And since you don't own anything other than co op shares, you are not building any equity. You'll still have to pay your share of the property taxes as a percentage of the property tax assessment.
HOW DO CO-OP BUILDINGS GET PRE QUALIFIED? 
To start with Co-op lender will look at the following factors to see if a particular Co-op building corresponds with their guidelines:  the Co-op property's resale value, investor concentration, and Co-op owner occupancy.  Based on the previous example, if there are 20 units, five sponsor rentals and 15 sold units (with 12 owner-occupied units and 3 units being rented by the  Co-op owners), the following ratios and guideline percentages result:
HOW IS A CO OP DIFFERENT FROM A CONDO?
When you get a mortgage to purchase a  house or condo you get the deed. But not with a Co-op, individual units do not have individual deeds. A  Co-op mortgage is actually a "share-loan" or a loan that purchases a share within in the  Co-op. The difference makes securing a loan for a Co-op more complicated them getting a traditional mortgage and fewer mortgage lenders offer share loans.
COOP BOARDS AND APPROVAL RULES
To buy into a Co-op, you must be approved by the Co-op board. The approval process is often extensive and may require interviews and character references, in addition to your employment, financial, and credit history.  Co-op boards can refuse a prospective buyer for any reason, so long as it doesn't run afoul of anti-discrimination policies. What you can do WITH your Co-op unit. As a Co-op shareholder, you don't have the right of alienation where basically, you can't sell your Co-op share (or rent your  Co-op unit) without the permission of the Co-op board. Some Co-op associations have the right of first refusal, meaning they have the option to buy the property before you offer your  Co-op to outside buyers. Co-op boards, though, can simply deny a sale without matching the sale price.
COOP OWNERSHIP DIFFERS FROM CONDO OWNERSHIP
When you purchase a condominium you are purchasing a specific unit the surface and the interior walls of the unit in the space the condo contains. With a Co-op, you are purchasing a share in a corporation, which then entitles you to a unit. This share is considered personal property rather than real estate. 
COOP MORTGAGE AGAINST COOP STOCK 
A cooperative project (co-op) is a multi-unit apartment/condo building where each owner has an interest in the building. In a co-op, a coop owner does not own the individual unit, but they own a share of the building stock certificates equal to other owners enabling the coop owner to occupy an unit. .
ELIGIBLE CO-OP PROPERTY TYPES & OCCUPANCY
Co-op Occupancy Permitted
• Primary Co-op Residence
• Second  Co-op Home (minimal rental income allowed)
• Investment  Co-op Property (non-owner Co-op occupied) permitted at maximum Co-op loan of 60% LTV

ELIGIBLE CO-OP MORTGAGE LENDERS REQUIREMENTS
• Minimum Down Payment 20% For Co-op Mortgage Lenders
• Title Insurance for  Co-ops title policy issued through a title company or closing attorney must be issued on Co-op certificate
• Leaseholds Co-op allowed on a case-by-case basis

BAD CREDIT CO-OP MORTGAGE LENDERS CREDIT REQUIREMENTS
• Late payments on any mortgage, installment or revolving account of 2×30, 1×60 or more will typically disqualify a
Coop Mortgage Applicants from financing. Exceptions will be reviewed on a case-by-case basis at a lower LTV.
• A pattern of adverse credit or overextended credit may disqualify Coop Mortgage Applicants from financing, even if minimum credit score
is met. Coop Mortgage Applicants with 3x monthly income amount in unsecured consumer debt are generally disqualified.
CO-OP MORTGAGE LENDERS REQUIREMENTS AFTER FORECLOSURE, BANKRUPTCY, SHORT SALE
• (4)Four-year seasoning from BK discharge date or sale of property
• Maximum 60% LTV or 40% down payment
• No derogatory credit allowed since the bad credit event
• Strong extenuating circumstance and signed letter of explanation from co-op mortgage applicant detailing event required.
NOT ALLOWABLE FOR CO-OP MORTGAGE LENDERS
– Structural Co-op deficiencies and certain pending litigation (please contact your AE if litigation is not related to a structural issue)
– Incomplete Co-op construction of the subject phase
APPROVED OR ALLOWED CO-OP MORTGAGE LENDERS CASE BY CASE: 
– Low Co-op HOA budget reserves
– HOA Co-op delinquencies exceeding 15%
•  Co-op mortgage lenders  Questionnaire must be 100% complete for Approval Commitment. No blanks or questions answered "n/a" or "unknown," and the Co-op questionnaire must pass underwriter review.
• Co-ops mortgage lenders price Co-ops the same as Non-Warrantable Condos, regardless of loan size or Co-op questionnaire findings.
•Co-op must put have a full kitchen and at least one separate bedroom. Minimum  Co-op size 500 square feet generally required. Efficiency  Co-ops or studio units are not permitted.
• Coinsurance Co-op is considered case-by-case if no agreed amount endorsement is available.
SELF EMPLOYED  CO-OP MORTGAGE LENDERS
Self-Employed co-op mortgage Income calculations
• Coop Mortgage Applicants should be self-employed in the U.S. for a minimum of 2 years (max 80% LTV).
• 2-years business & personal tax returns required, plus year-to-date Profit & Loss statement.
• Business tax returns required for all businesses in which the Coop Mortgage Applicants has 25% ownership or more. On occasion
business tax returns are needed if the Coop Mortgage Applicants is has less than 25% ownership.
• Fannie Mae cash flow analysis form can be used.
• NOL Carryover Loss: Treated case-by-case when truly a one-time occurrence (i.e. real estate loss, lawsuit settlement or some other form of a truly one-time occurrence). Detailed CPA letter addressing the one-time occurrence is required.
• Less than two years self-employment is considered on a case-by-case basis with a reduced LTV.
REQUIRED BY CO-OP MORTGAGE LENDERS
• 2-months bank statements for monthly asset accounts, and most recent statement for quarterly asset accounts
(VOD not permitted).
• 6 months PITI for all  co-op properties owned including subject.
• At least 3 months of the subject property's reserves must be liquid non-retirement.
CO-OP RECOGNITION AGREEMENT OR ACKNOWLEDGEMENT
Coop mortgage lenders will require that the cooperative association sign an Acknowledgement  "Recognition Agreement" wherein the coop association recognizes that the coop mortgage lender has a security interest against the coop unit and provides a number of protections for the lender. These include stipulations for the delivery of notices to the coop mortgage lender in the event that the owner violates the cooperative board rules or/and does not pay assessments dues on time. The recognition agreement will also contain provisions that are designed to protect the coop mortgage lender in the event of a default under the loan arrangements. At times coop associations are familiar with such documents and are willing to sign them, other times they are not. Sometimes they will sign them only with modifications that may or may not be acceptable to the coop mortgage lender. Thus, in many cases (particularly where the coop mortgage  lender has not dealt with the cooperative previously), the coop mortgage lender surfaces the agreement and provides it to the association early in the process, so as to determine as quickly as possible whether the association and the coop mortgage  lender will be able to come into an agreement..

CO-OP MORTGAGE LENDERS CASE BY CASE MORTGAGE APPROVALS
•Co-op Current reserve balance meets or exceeds 2 months of the subject property's Co-op HOA dues in reserves multiplied by all Co-op units in the Co-op project or 10% or more reserve allocation designated in the most recent Co-op budget.
SECOND HOME CO-OP MORTGAGE LENDERS
•  Co-op Mortgage Lenders will typically define a property as a second  Co-op home if it is (1) located in a vacation or resort area 30 or more miles from the primary  Co-op residence or (2) used a Co-op college housing for enrolled dependent within 5 miles of campus)
• Short-term Co-op rental income is allowed on second Co-op homes and generally does not constitute a Co-op investment property designation.  Co-op Rental income cannot be used to qualify. An evaluation of the 1040 Schedule E is required.
CO-OP MORTGAGE FOR INVESTMENT PROPERTY 
• Property titled in LLC allowed 
• Maximum Co-op 60% LTV for investor Co-op mortgage lenders.
• Gross rental income is calculated by using a 12 month average of the net Schedule E income (Line 21) plus depreciation, mortgage interest paid to banks, taxes and insurance, and Co-op HOA dues.
• Rental income not appearing on Schedule E may be considered case-by-case with 3 months canceled checks and a
current lease agreement. Use 75% of gross rent as gross rental income.
• Immediate  Co-op rental income on the purchase of an investment property is allowed using 75% of the monthly rent schedule as documented by Form 1007 or 1025.
• Cash-out is allowed up to $3,000,000 with no seasoning required.
COOP MORTGAGE LENDERS – APPROVAL PROCESS AND KEY REQUIREMENTS
All Cooperative (Co-op) Projects must be submitted to and approved by coop mortgage lenders Cooperative Project Approval Group (CPAG). Outlined below are instructions:
1. Validate an existing project review status. AND/OR
2. Initiate a Co-op Project review with coop mortgage lenders.
COOP ACKNOWLEDGEMENT OF COOPERATIVE ASSOCIATION 
The   undersigned   Cooperative   Association   (the   "Association")   hereby   accepts   notice   of   and   consents   to   the   grant ("Coop Mortgage Applicants")  to  you  of  security  interests  in  any  capital  stock, membership  certificate,  proprietary lease, occupancy agreement,  membership agreement or any other instrument of Coop Mortgage Applicants with the Association evidencing Co-Op  of an interest in apartment l o c a t e d  a t  ("coop Apartment") of the Association (collectively, the "Co-Op Documents"), to secure a loan (the "Loan") by you to Coop Mortgage Applicants. The grant of such security interests is permitted by the terms of the By-Laws and other governing documents of the Association. Further, the Association acknowledges that the fee simple [leasehold] interest of the land and  improvements of  which the  Apartment is  a part  is  subject  only  to  the  following  Mortgage  loans  or  deeds  of  trust:
According to the records of the Association, (i) Coop Mortgage Applicants is approved as the occupant and owner of an interest in the Corporation pursuant to the Co-Op Documents, (ii) all assessments, rents and other amounts due and payable by Coop Mortgage Applicants to the  Association have  been  paid  through  and  (iii)  there  are  no  existing  defaults  under  the
Co-Op Documents to the knowledge of the Association.   The  Association  will use its best efforts to copy the mortgagee
promptly on any written notice of any default (whether a payment or a non-payment default) under the Co-Op Documents, and the Association will not take any remedial action on account of any such default for a period of 30 days after such notice or for any longer  period provided by the Co-Op Documents for  Coop Mortgage Applicants to cure the default, during which period you may (but without obligation) cure the default, if the default may be cured by the mortgagee.
The  COOP Association will not consent to any action by Coop Mortgage Applicants with respect to the Co-Op Documents which would affect your lien rights  therein  as COOP Mortgage Lenders, and the Association   will  recognize  the lien  and  other security  rights provided by your  security documents except that is agreeing to subordinate its lien to the Association's. If the Association at any time elects to terminate any of the Co-Op Documents, it will recognize your right to receive the net proceeds of any sale or subletting of the Apartment to the extent of your mortgage lien.  If, by reason of default or otherwise, you succeed, or your nominee succeeds, to Coop Mortgage Applicants interest in the Co-Op Documents, the Association will recognize the interest of you or your nominee to own the shares in the corporation.   However, future occupancy will be  subject to obtaining all approvals required by the Co-Op Documents and Association By-Laws.  F u r t h e r ,  the Association is only required to consent  to  any  subsequent  sale and  transfer of the  Co-Op  Documents  with a  contemporaneous satisfaction  of all obligations of Coop Mortgage Applicants to the Association. The Association will not exercise any rights  it may have to acquire and/or sell the Co-Op by payment of a price less than the lower of the market value of the interests represented by the Co-Op Documents or the unpaid balance of Coop Mortgage Applicants indebtedness to you on the Loan.recognizes that the lien of the Association for unpaid dues  and  assessments h a s priority over the security interests of  This letter is being executed by authority of the Board of Directors and By-Laws of the Association.   In the event of any conflict between the terms of this Acknowledgement and the By-Laws or other governing documents of the Association, the terms of this Acknowledgement shall prevail.    This Acknowledgment may be executed in any number of counterparts, including facsimile counterparts, with the same effect as if all signing parties had signed the same document.
Cooperative Home Loan Project Approval Process
All  Cooperative (Co-op) Projects must be submitted to and approved by  coop mortgage lenders.
Project Approval Group (CPAG). Outlined below are instructions:
Validate an existing coop project review status. AND/OR
Initiate a Co-op Project review with coop mortgage lenders.
Validate a Coop Project's Status (Step 1)
• Access the co-op database on the dashboard Resource Center.
Search the Coop project using name, address and or location.
Verify the status and take appropriate action.
If project has been approved and the expiration dates are within the time frame for the closing and funding of the  coop loan, complete the Cooperative (Co-Op Project Approval Request Form and loan should be submitted as per  coop mortgage lenders procedure and policy guidelines.
If the coop project has not been reviewed and/or cannot be located in the database, a project review must be initiated. Proceed to step 2 detailed below.
If the  coop project has been declined, a project review may be initiated to determine if the coop project qualifications have changed and coop mortgage lenders is able to approve as of today. Proceed to step 2 below.
Indicate declined status on the Co-op Project Review Request and supply any additional documentation or details as needed. IF PROJECT STATUS IS DECLINED DO NOT REGISTER OR SUBMIT LOAN UNTIL PROJECT IS REVIEWED.
If the  coop project has expired a project review may be initiated to update and extend the approved through date.
Indicate expired status on the Co-op Project Review Request and supply any additional and updated documentation with the request.
Initiate a  coop mortgage lenders Project Review (Step 2)
• Complete the  Cooperative (Co-Op) Project Approval Request Form (select current status of Co-op Project Review option on the form).
Refer to  project eligibility guideline for required co-op documentation. The form is available on  coop mortgage lenders website under the resource center.
• Submit the completed form to the CPAG. See submission details below.
Project approval request can be submitted prior to loan registration and or loan approval.
CPAG team will work directly with the  co-op board contact or managing agent to request all the required documentation and complete the review. If the attempts are unsuccessful, the board may request additional support to obtain the information or the review will be canceled.
Key Document Requirements for Cooperative Project Review
Details on the documents needed for a project review and general guideline requirements are listed below. Please reference the  coop mortgage lenders Project Standards for complete requirement details.  coop must provide the most Recent 2 Years Audited Financial Statements
Finalized/board- Financials must be finalized/board approved and include all pages including notes.
Note: Draft financials are not acceptable for project approval. Approved financials
Compiled- Compiled Financial Statements are acceptable on  co-op projects containing 50 units or less.
Note: Co-op Project Approval Team (CPAT) Underwriters reserve the right to require federal corporate tax returns (form 1120 or 1120C are acceptable) to support the compiled financial statements if they deem them necessary to adequately evaluate the project. Projects containing greater than 50 units must have audited financial statements. Financial           Statements <50 units   
Condo op Requirements – The term condop in real estate refers to a mixed-used condominium building where at least one of the units is owned by a cooperative corporation and sub-divided into many  "co-op" apartments.
Co-ops which are part of Condop projects require 2 years financial statements for both the co-op corporation and the condominium corporation. If the financial statements of the co-op corporation contain a detailed analysis of the financial operations of the condominium component of the development, that is acceptable.
Condops which cannot provide condominium financial statements are not approvable.
Note: Projects must be deemed financially sound and hold adequate reserves.  coop mortgage lenders defines "adequate" reserves as being 10% of the annual maintenance fees. Reserve funds would include all cash accounts and investments which could be liquidated  (that is, stocks, bonds, CDs, etc.). Current asset to current liability ratio should be 1:1 and projects should show an annual positive cash flow. Available line(s) of credit held by the corporation will be considered as a compensating factor for reserves falling below the 10% benchmark, but will not be used as a sole source of reserves.
Master Certificate of Insurance
Liability Insurance- Minimum $1,000,000 per single occurrence of bodily injury and property damage is required (minimum $2,000,000 if the project has an elevator).
Property/Hazard Insurance
Must cover 100% of the insurable value of the project improvements with losses paid out on a replacement cost basis.
Must cover all buildings and units.
Boiler/Mechanical Insurance
Must be equal to, at minimum the lesser of 100% insurable replacement cost of the building housing the property or $2,000,000.
Fidelity Bond Insurance
Required if the co-op project has more than 20 units.
The amount of coverage must be equal to the greater of 3 months of assessments/maintenance fees of all units in the project OR the sum of all cash and reserve monies that are in custody of the co-op corporation or its management.
If the co-op project is professionally managed and is more than 20 units, proof of Managing Agent Bond is also required either thru a Rider to the co-ops policy or a separate policy held by the co-op corporation covering the Managing Agent.
Business Income- Insurance (Rent Loss/ Business Continuation)    Required if the co-op corporation is < 70% Owner Occupied.
Flood Insurance
Required if any party of the co-op project's improvements are in a Special Flood Hazard Area (SFHA).
Inflation Guard Endorsement (When it can be obtained) •        A provision that gradually and continuously increases the limit of insurance by specified percentage over a specified time period.  coop mortgage lenders Home Mortgage Cooperative Certification Questionnaire
Generic Questionnaires Generic questionnaires are generally not acceptable, but generic questionnaires may be accepted on a case by case basis if approved by the CPAG.
Questionnaire Completion The questionnaire must be completed in it's entirely and signed/dated by the cooperatives designated agent or Board of Directors. Incomplete or unsigned/dated questionnaires are not acceptable and will not be submitted to underwriting for review.
Sponsor Ownership Co-op projects in which the Sponsor or "Holder of Unsold Shares" retains R etention >10% -Offering Plan Requirement           ownership of > 10% of the units require a copy of the most recent Amendment to the Offering Plan (Sponsor Disclosure Amendment) filed with the NY Attorney General (as noted in  coop mortgage lenders's Cooperative (Co-Op) Certification/Questionnaire).
Note: Sponsorship question should be completed for any project which > 10%
ownership by the Sponsor or "Holder of Unsold Shares."
Unit Occupancy Unit occupancy breakdown must be complete and itemized breakdown add
            Breakdown        up to the total number of units in the cooperative. Management will need to
correct figures if there are units which are not captured. Note: Sublet units are considered Investor /non-owner occupied owned units.
Subject to a Ground Lease   If a project is subject to a Ground Lease a copy of the Ground Lease and all amendments is required to get submitted along with the project review for review and approval by the coop mortgage lenders (CPAG will submit for review as part of the project review). Projects subject to unacceptable Ground Leases are not eligible. Leasehold co-ops are only acceptable in approved markets as indicated in published guidelines.
Projects with Non-
Residential Space         Projects with non-residential space (including Condops) must include a square footage itemization.
Garage square footage must be included as in the non-residential calculation if the garage is leased/rented to a third party or if the income received is from non-shareholders.
Maximum of 25% of the total building square footage can be used for non- residential purposes.
Projects Subject to Pending Litigation Generally, co-op projects subject to pending litigation are ineligible property types. If a project has pending litigation co-op management should fully explain the nature of the litigation so CPAT Underwriters can determine the severity of the litigation and the risk to the corporation and shareholders and determine if the litigation falls within acceptable parameters for approval.
Projects Subject to Transfer Fees or "flip tax" If a project is subject to transfer fees or "flip tax," management should provide full details of the requirements so the CPAT Underwriters can ensure the requirements are acceptable. The maximum allowed fee is 5% of the sales price.
No Acceptance/Use of Aztech Recognition Agreement Without Modification or Rider If a co-op corporation does not accept/use the standard Aztech Recognition Agreement without modification or rider, the corporation must provide a complete copy of their recognition agreement (with Rider if applicable) for review. Non-standard Recognition Agreements are subject to coop mortgage lenders legal review and approval.