Bank Statement Self Employed Arkansas Mortgage Lenders
When determining the appropriate qualifying income for a self-employed borrower, it is important to note that business income reported on an individual IRS Form 1040 may not necessarily represent income that has actually been distributed to the borrower. No Tax return bank statement Florida mortgage lenders use bank statements along with a questionnaire to determine the amount of income that can be relied on by the borrower in qualifying for their personal mortgage obligation. When underwriting these borrowers, it is important to review business income distributions on the bank statements to determine the viability of the underlying business. This analysis includes assessing the stability of business income and the ability of the business to continue to generate sufficient income to enable self-employed mortgage applicants to meet their monthly payment obligations.
No Tax Return Arkansas Mortgage Lenders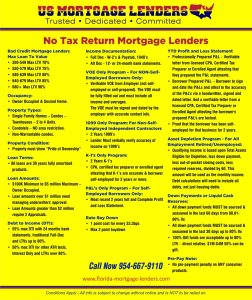 Allowable Properties Include:
Single-family homes /Townhomes / Villas

Condos / Condominiums

Condotels

Multifamily Up To 8 Units
No Tax Return Mortgage Lenders Options
Use Personal Bank Statements

:

You can qualify using

12 or 24 months bank statements

and use Up To 100 percent of deposits if they came from a Business Bank Account.

Use Business Bank Statements:

You can qualify with

12 or 24 months of bank statements

and count up to

90%

percent of the deposits. A self-employment questionnaire is usually required to determine your income. For example, if you are a 1099 realtor with no money for rent, or cost you can use up to 90% of your income to qualify. 

Use 1099s For Income:

Some lenders will allow

2 years of 1099s and 2 months of recent bank statements

along with a bank statement questionnaire to understand your expenses.

Use Lease Agreements

:

As long as the lease agreements are enough to cover the mortgage payments lenders will lend up to 80% loan to value with no income verification needed.

Investor Cash Flow Loan: Investor Cash Flow loan uses the cash flow on a home to qualify for an investment property. Tax returns are not required. This loan saves you from submitting complicated income statements and tax returns.
Asset Qualifier:  Asset Qualifier mortgage gives homebuyers the ability to qualify for a mortgage using their liquid assets. Borrowers must have a minimum of $500,000 in assets post-closing. Qualifying assets include retirement, checking, savings accounts, and stocks.
Who Qualifies For A Bank Statement Mortgage?
Our bank statement mortgage lenders provide funding for business owners throughout Arkansas. You must have a good payment history and good deposits but don't have traditional income and wouldn't qualify for standard bank loan financing. To qualify for our No Tax return bank statement mortgage you'll need the following:
Minimum of 1+ years in the same line of work..
Minimum 550 middle credit score.
Minimum 10% down payment+ Closing Cost + Reserves.

reserves are defined as the total mortgage payment PITI in your account after closing.

Minimum 3-6 Months Reserves.
Minimum 12 months since any housing events

( Foreclosure, Bankruptcy Discharge, Short Sale )

Maximum DTI 55%

Bank statement only mortgage lenders will allow the self-employed to qualify up to 55% of their total income for housing and all other monthly payments on their credit report.
Like any mortgage loan, we'll evaluate your qualifying factors to determine if you're a good candidate for the bank statement loan before you go searching for a home! And because we don't ask for tax returns, you don't have to worry about skipping certain deductions you're entitled to as a business owner and increasing your tax liability just to get approved for an Arkansas mortgage.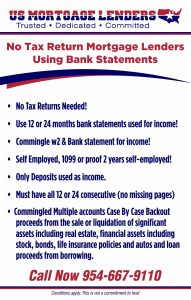 What is a Bank Statement Loan? 

A Bank Statement loan is often a great mortgage option for eligible self-employed Arkansas mortgage applicants that doNot show their true income on their tax returns to qualify for the mortgage they want. This program uses the mortgage applicants' average bank statement deposits business or personal to calculate their income without requiring tax returns or  w-2's. Bank statement mortgage lenders are relatively new. The most common borrower that benefits from the bank statement loan is the self-employed that does not show enough income to purchase the home of their choice.

How Does it Work? 
Bank statement mortgage lenders will request your last 12 – 24 months of bank statements to prove your income. We look for regular monthly deposits that are equal to the income you state you make running your business. We use the deposits as proof of your income and to come up with the figures used to determine your debt-to-income ratio, and how much you can afford.  The percentage the lender will allow you to use to qualify for it depends on the industry you're in and the regularity of your deposits.  Our bank statement loan works on almost any property type including owner-occupied, second homes, and investment homes. 
How Do Lenders Determine Your Income?
Business Bank statement mortgage loans are processed through a manual underwriting process. This means the income and expense calculation could take a few days. No Tax return mortgage lenders will also require a business questionnaire (BELOW) to understand your business expenses. For a bank statement loan, the lender only backs out your bare-bone minimum business expenses. You can use the rest of your income to qualify for a mortgage!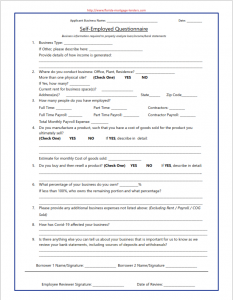 What is a Bank Statement Mortgage?
The name should explain it  Arkansas no tax return mortgage lenders can use bank statement deposits to estimate your income instead of tax returns. Bank lenders and lenders that sell your loan to Fannie Mae or Freddie mac all want to see your income after expenses. If your tax returns show less than enough income you will Not qualify for the mortgage of your choice.  Fannie Mae Freddie Mac lenders can only use the income after all expenses claimed on your tax returns for qualifying.  This Fannie mae 1084 self-employed worksheet may be used to prepare a written evaluation of the analysis of income related to self-employment. The purpose of this written analysis is to determine the amount of stable and continuous income after expenses that will be available for you to purchase a home. 
Why Choose a Bank Statement Loan? 
Bank statement loans have pros and cons, like all other mortgage loans. If you're self-employed consider the bank statement loan for these benefits:
You can get mortgage financing without using your tax returns and/or you've been denied by your bank or credit union.

You can continue to claim your business write-offs without losing your mortgage eligibility.

You don't need perfect credit

You can buy a home with just 10% down

Sellers can help you with up to 6% of the sales price in closing costs (2% for investment homes) 
What Are the Downsides?
If you don't make your mortgage payments you can lose your home

You'll need at least 10 Down + Closing costs + Reserves.

You need 3-6 months of reserves in your account at closing. 
Bank statement loans have flexible guidelines and let you qualify without typical tax returns. It's a nice reprieve for self-employed borrowers who already face so many different regulations and expenses since they don't work for someone else. 
Are These like  Conventional Loans?

 
 Here are a few ways our bank statement loans are more flexible than a conventional loan:
NO PMI with Bank Statement Loans –

We only require a 10% down payment yet you don't pay PMI. Conventional loans require PMI with a down payment of less than 20%. This saves you money on your mortgage payment and makes it easier to afford a home.

30-year Fixed repayment terms –

but with a variety of options. You can choose a 30-year fixed-rate loan, 5/1 ARM, or 7/1 ARM. 

No prepayment penalty on primary owner-occupied or second homes –

This means you can make extra payments as often as you want, pay the loan off early, or sell the home whenever you want. 
Arkansas No Tax Return Self-Employed Coverage Areas
Abbott Scott Bald Knob White Bismarck Hot Spring
Adona Perry Banks Bradley Black Fork Scott
Agnos Fulton Banner Cleburne Black Oak Craighead
Albion White Barber Logan Black Rock Lawrence
Alco Stone Barling Sebastian Black Sprgs. Montgomery
Aleene Little River Barton Phillips Blackwell Conway
Alexander Pulaski Bass Newton Blakely Garland Arkansas
Alicia Lawrence Bassett Mississippi Blevins Hempstead
Alix Franklin Bates Scott Blooming Gr. Clay
Allison Stone Batesville Independence Blue Eye Carroll
Allport Lonoke Bauxite Saline Blue Mtn. Logan
Alma Crawford Bay Craighead Bluff City Nevada
Almyra Arkansas Bay Village Cross Bluffton Yell
Alpena Boone Bear Creek Searcy Blytheville Miss.
Alpine Clark Bearden Ouachita Board Camp Polk
Altheimer Jefferson Beaver Carroll Bodcaw Nevada
Altus Franklin Bee Branch Van Buren Boles Scott
Amagon Jackson Beebe White Bonanza Sebastian
Amity Clark Beech Grove Greene Bonnerdale Hot Spring
Amy Ouachita Beedeville Jackson Bono Craighead
Antioch White Beirne Clark Booneville Logan
Antione Pike Bella Vista Benton Boston Madison
Appleton Pope Bellefonte Boone Boswell Izard
Arkadelphia Clark Belleville Yell Boxley Newton
Ar. City Desha Ben Hur Newton Boydell Ashley
Arkinda Little River Ben Lomond Sevier Bradford White
Arkla Village Nevada Benton Saline Bradley Lafayette
Armorel Mississippi Bentonville Benton Branch Franklin
Ash Flat Sharp Bergman Boone Brickeys Lee
Ashdown Little River Berlin Ashley Briggsville Yell
Asher Madison Berryville Carroll Brinkley Monroe
Athens Howard Bethel Hgts Benton Brockwell Izard
Atkins Pope Bexar Fulton Brookland Craighead
Atlanta Columbia Big Flat Baxter Bruins Crittenden
Aubrey Lee Big Lake Miss. Bruno Marion
Augusta Woodruff Bigelow Perry Bryant Saline Arkansas
Aurora Madison Biggers Randolph Buckner Lafayette
Auvergne Jackson Birdeye Cross Buckville Garland
Avoca Benton Birdsong Miss. Bull Shoals Marion
Balch Jackson Biscoe Prairie Burdette Miss.
Arkansas Town & County Listing
City/Town County City/Town County City/Town County
Busch Carroll Charlotte Independence Curtis Clark
Byron Fulton Chatfield Crittenden Cushman Independence
Cabot Lonoke Cherokee Vlg Sharp Daisy Pike
Caddo Gap Montgomery Cherry Valley Cross Dallas Polk
Caddo Valley Clark Chester Crawford Dalton Randolph
Calamine Sharp Chicot Jct. Chicot Damascus Faulkner
Caldwell St. Francis Chidester Ouachita Danville Yell
Cale Nevada Chimes Van Buren Dardanelle Yell
Calico Rock Izard Choctaw Van Buren Datto Clay
Calion Union Clarendon Monroe Decatur Benton
Camden Ouachita Clarkedale Crittenden Deer Newton
Cammack Vlg Pulaski Clarkridge Baxter Delaney Madison
Camp Fulton Clarksville Johnson Delaplaine Greene
Campbell Stn. Jackson Cleveland Conway Delaware Logan
Canehill Washington Clifty Madison Delight Pike
Canfield Lafayette Clinton Van Buren Dell Mississippi
Caraway Craighead Coal Hill Johnson Dennard Van Buren
Carlisle Lonoke College City Lawrence Denning Franklin
Carryville Clay College Hgts. Drew Denver Carroll Arkansas
Carthage Dallas Collegeville Saline Denwood Mississippi
Casa Perry Collins Drew DeQueen Sevier
Cash Craighead Colt St. Francis Dermott Chicot
Casscoe Arkansas Columbus Hempstead Des Arc Prairie
Caulksville Logan Combs Madison Desha Independence
Cauthron Scott Compton Newton DeValls Bluff Prairie
Cavanaugh Sebastian Concord Cleburne DeWitt Arkansas
Cave City Sharp Conway Faulkner Diamond City Boone
Cave Creek Newton Cord Independence Diaz Jackson
Cave Springs Benton Corning Clay Dierks Howard
Cecil Franklin Cotter Baxter Dixie Crittenden
Cedar Creek Scott Cotton Plant Woodruff Doddridge Miller
Cedarville Crawford Cove Polk Dog Patch Newton
Center Hill Greene Coy Lonoke Dolph Izard
Center Point Howard Cozahome Searcy Donaldson Hot Spring
Center Ridge Conway Crawfordsville Crittenden Dover Pope
Centerton Benton Crocketts Bluff Arkansas Dowdy Independence
Centerville Yell Crossett Ashley Drakes Creek Madison
Central City Sebastian Crumrod Phillips Drasco Cleburne
Chanticleer Chicot Crystal Springs Garland Driver Mississippi
Charleston Franklin Cullendale Ouachita Dumas Desha
Arkansas Town & County Listing
City/Town County City/Town County City/Town County
Dutton Madison Flippin Marion Goshen Washington
Dyer Crawford Floral Independence Gosnell Mississippi
Dyess Mississippi Fordyce Dallas Gould Lincoln Arkansas
Eagle Mills Ouachita Foreman Little River Grady Lincoln
Earle Crittenden Forrest City St. Francis Grand Glaise Jackson
E. Camden Ouachita Ft. Chaffee Sebastian Grandview Carroll
Eaton Lawrence Ft. Smith Sebastian Grannis Polk
Ebony Crittenden Forty-Four Izard Grapevine Grant
Eden Isle Cleburne Forum Madison Gravel Ridge Pulaski
Edgemont Cleburne Fouke Miller Gravelly Yell
Edmondson Crittenden Fountain Hill Ashley Gravette Benton
Egypt Craighead Fourche Perry Green Forest Carroll
El Dorado Union Fox Stone Greenbrier Faulkner
El Paso White Franklin Izard Greenland Washington
Elaine Phillips Frenchmans Mississippi Greenway Clay
Elizabeth Fulton Friendship Hot Spring Greenwood Sebastian
Elkins Washington Fulton Hempstead Greers Ferry Cleburne
Elm Springs Washington Furlow Lonoke Gregory Woodruff
Emerson Columbia Gamaliel Baxter Grider Mississippi
Emerson Columbia Garden Pt Poinsett Griffithville White
Emmet Nevada Garfield Benton Grubbs Jackson
England Lonoke Garland Miller Guion Izard
Enola Faulkner Garner White Gum Springs Clark
Ethel Arkansas Gassville Baxter Gurdon Clark
Etowah Mississippi Gateway Benton Guy Faulkner
Eudora Chicot Geneva Pulaski Hackett Sebastian
Eureka Spr. Carroll Genoa Miller Hagarville Johnson
Evansville Washington Gentry Benton Hally Desha Arkansas
Evening Shade Sharp Georgetown White Hamburg Ashley
Everton Boone Gepp Fulton Hamlin Cross
Fair Oaks Cross Gieseck Cross Hampton Calhoun
Fairfield Bay Van Buren Gilbert Searcy Hanover Stone
Falcon Nevada Gilham Sevier Hardin Jefferson
Fargo Monroe Gillett Arkansas Hardy Sharp
Farmington Washington Gillham Sevier Harrell Calhoun
Fayetteville Washington Gilmore Crittenden Harriet Searcy
Felsenthal Union Glencoe Fulton Harrisburg Poinsett
Ferndale Pulaski Glendale Lincoln Harrison Boone
Fifty Six Stone Glenwood Pike Hartford Sebastian
Fisher Poinsett Goodwin St. Francis Hartman Johnson
Arkansas Town & County Listing
City/Town County City/Town County City/Town County
Harvey Scott Humphrey Jefferson Knobel Clay
Haskell Saline Hunt Johnson Knoxville Johnson
Hasty Newton Hunter Johnson La Crosse Izard
Hatfield Polk Huntington Sebastian La Grange Lee
Hattieville Conway Huntsville Madison Lacey Drew
Hatton Polk Huttig Union Lafe Greene
Havana Yell Ida Cleburne Lake City Craighead
Haynes Lee Imboden Lawrence Lake Hamilton Garland
Hazen Prairie Indian Chicot Lake View Phillips
Heber Springs Cleburne Ingalls Bradley Lake Village Chicot
Hector Pope Ione Logan Lakeview Baxter
Helena Phillips Ivan Dallas Lamar Johnson
Henderson Baxter Jacksonport Jackson Lambert Hot Spring
Hensley Pulaski Jacksonville Pulaski Lambrook Phillips Arkansas
Hermitage Bradley Jamestown Independence Landis Searcy
Heth St. Francis Jasper Newton Laneburg Nevada
Hickory Plains Prairie Jefferson Jefferson Langley Pike
Hickory Ridge Cross Jennette Crittenden Lansing Crittenden
Higden Cleburne Jennie Chicot Larce Benton
Higginson White Jericho Crittenden Lavaca Sebastian
Highfill Benton Jerome Drew Lawson Union
Highland Pike Jersay Bradley Leachville Mississippi
Hindsville Madison Jerusalem Conway Lead Hill Boone
Hiwasse Benton Jessieville Garland Leola Grant
Holly Grove Monroe Jessup Lawrence Leonard Clay
Holly Springs Dallas Johnson Washington Lepanto Poinsett
Hollywood Clark Joiner Mississippi Lepia Grant
Hon Scott Jones Mill Hot Spring Leslie Searcy
Hope Hempstead Jonesboro Craighead Letona White
Horatio Sevier Jordan Baxter Levesque Cross
Horseshoe Bd Izard Judsonia White Levy Pulaski
Horseshoe Lk Crittenden Junction City Union Lewisville Lafayette
Hot Springs Garland Keiser Mississippi Lexa Phillips
Houston Perry Kelso Desha Light Greene
Howell Woodruff Kensett White Limestone Newton
Hoxie Lawrence Keo Lonoke Lincoln Washington
Huff Independence Kibbler Crawford Little Flock Benton
Hughes St. Francis Kingsland Cleveland Little Rock Pulaski
Hulbert Crittenden Kingston Madison Lockesburg Sevier
Humnoke Lonoke Kirby Pike Locust Grove Independence
Arkansas Town & County Listing
City/Town County City/Town County City/Town County
London Pope McDougal Clay Mountain Top Franklin
Lonoke Lonoke McGehee Desha Mt. View Stone Arkansas
Lonsdale Garland McHue Independence Mountainburg Crawford
Louann Ouachita McKamie Miller Mulberry Crawford
Low Gap Newton McNab Hempstead Murfreesboro Pike
Lowell Benton McNeil Columbia Nail Newton
Lundell Phillips McRae White Nashville Howard
Lurton Newton Melbourne Izard Natural Dam Crawford
Luter Stone Mellwood Phillips Nettleton Craighead
Luxora Mississippi Mena Polk New Blaine Logan
Lynn Lawrence Menifee Conway New Edinberg Cleveland
Mabelvale Pulaski Midland Sebastian Newark Independence
Macedonia Columbia Midway Baxter Newberg Izard
Macks Jackson Mineral Spgs Howard Newhope Pike
Madison St. Francis Minturn Lawrence Newnata Stone
Magazine Logan Mist Ashley Newport Jackson
Magness Independence Mitchellville Desha Nimmons Clay
Magnolia Columbia Moko Fulton Nimrod Perry
Mallard Point Baxter/Izard Monette Craighead Nodena Mississippi
Malvern Hot Spring Monroe Monroe Norfork Baxter
Mammoth Sp. Fulton Monticello Drew Norman Montgomery
Manila Mississippi Montongo Drew Norphlet Union
Manning Dallas Montrose Ashley N. Cedar Jefferson
Mansfield Scott Moorefield Independence N. Little Rock Pulaski
Marble Madison Moreland Pope O'Kean Randolph
Marcella Stone Morganton Van Buren Oak Acres Poinsett
Marianna Lee Moro Lee Oak Grove Carroll
Marie Mississippi Morrilton Conway Oak Grove Greene
Marion Crittenden Morrison Blf Logan Oakhaven Hempstead
Marked Tree Poinsett Morriston Fulton Oakland Marion
Marmaduke Greene Morrow Washington Oark Johnson
Marsena Searcy Moscow Jefferson Oden Montgomery
Marshall Searcy Mossville Newton Ogden Little River
Marvell Phillips Mt. Holly Union Oil Trough Independence
Maumelle Pulaski Mount Ida Montgomery Okay Howard
Mayflower Faulkner Mt. Judea Newton Okolona Clark
Maynard Randolph Mt Pleasant Izard Ola Yell
Maysville Benton Mt Vernon Faulkner Old Joe Baxter Arkansas
McCaskill Hempstead Mt. Home Baxter Olmstead Pulaski
McCrory Woodruff Mt. Pine Garland Olyphant Jackson
Arkansas Town & County Listing
City/Town County City/Town County City/Town County
Omaha Boone Pineville Izard Roe Monroe
Oneida Phillips Plainview Yell Rogers Benton
Onia Stone Pleasant Grove Stone Rohwer Desha
Opal Polk Pleasant Plains Independence Roland Pulaski
Oppelo Conway Plumerville Conway Rolla Hot Spring
Osage Carroll Pocahontas Randolph Romance White
Osceola Mississippi Pollard Clay Rondo Lee
Oxford Izard Ponca Newton Rose Bud White
Ozan Hempstead Poplar Grove Phillips Rose City Pulaski
Palestine St. Francis Portia Lawrence Roseland Mississippi
Palmyro Lincoln Portland Ashley Rosie Independence
Pangburn White Postelle Phillips Rosston Nevada
Paragould Greene Pottsville Pope Rotan Mississippi
Paris Logan Poughkeepsie Sharp Round Pound St. Francis
Parkdale Ashley Powhatan Lawrence Rover Yell
Parkin Cross Poyen Grant Rowell Cleveland
Parks Scott Prairie Grove Washington Royal Garland Arkansas
Paron Saline Prairie View Logan Rudd Carroll
Parthenon Newton Prattsville Grant Rudy Crawford
Patmos Hempstead Prescott Nevada Rule Carroll
Patrick Madison Prim Cleburne Rushing Stone
Patterson Woodruff Princeton Dallas Russell White
Payneway Poinsett Proctor Crittenden Russellville Pope
Pea Ridge Benton Pruitt Newton Saffell Lawrence
Peach Orchard Clay Pyatt Marion Sage Izard
Pearcy Garland Quitman Cleburne St. Vincent Conway
Peel Marion Ratcliff Logan Salado Independence
Pelsor Pope Ravenden Lawrence Salem Fulton
Pencil Bluff Montgomery Reader Ouachita Salesville Baxter
Perla Hot Spring Readland Chicot Salus Johnson
Perry Perry Redfield Jefferson Saratoga Howard
Perrytown Hempstead Reed Desha Scotland Van Buren
Perryville Perry Reydell Jefferson Scott Pulaski
Petit Jean Conway Reyno Randolph Scottsville Pope
Pettigrew Madison Rich Mtn. Polk Scranton Logan
Pickens Desha Rison Cleveland Searcy White
Pindall Searcy Rivervale Poinsett Sedgwick Lawrence
Pine Bluff Jefferson Rockfort Hot Spring Selma Drew
Pine Crest Jefferson Rockwell Garland Shannon Hills Saline
Pine Ridge Montgomery Rodney Baxter Sheridan Grant
Arkansas Town & County Listing
City/Town County City/Town County City/Town County
Sherrill Jefferson Sturkie Fulton Twist Cross
Sherwood Pulaski Stuttgart Arkansas Tyronza Poinsett
Shirley Van Buren Subiaco Logan Ulm Prairie Arkansas
Shoffner Jackson Success Clay Umpire Howard
Sidney Sharp Sulpher Rock Independence Union Fulton
Sidon White Sulpher Sprgs Benton Uniontown Crawford
Siloam Sprgs Benton Summers Washington Urbana Union
Sims Montgomery Summit Marion Urbanette Carroll
Simsboro Crittenden Sunnyland Stone Valley Springs Boone
Slovak Prairie Sunset Crittenden Van Arkansas
Smackover Union Swan Lake Jefferson Van Buren Crawford
Smithville Lawrence Sweet Home Pulaski Vandervoort Polk
Snow Lake Desha Swifton Jackson Vanndale Cross
Snowball Searcy Tamo Jefferson Vendor Newton
Snyder Ashley Taylor Columbia Victoria Mississippi
Solgohachia Conway Texarkana Miller Village Columbia
Soudan Lee Thida Independence Vilonia Faulkner
S. Ft. Smith Sebastian Thornton Calhoun Vincent Crittenden
S. Fourche Perry Tichnor Arkansas Viola Fulton
S. Lead Hill Boone Tillar Drew Violet Hill Izard
South Side Independence Tilly Pope Wabash Phillips
Sparkman Dallas Tilton Cross Wabbaseka Jefferson
Springdale Washington Timbo Stone Walcott Greene
Springfield Conway Tinsman Calhoun Waldenburg Poinsett
Springtown Benton Tollette Howard Waldo Columbia
St. Charles Arkansas Tollville Prairie Waldron Scott
St. Francis Clay Tomato Mississippi Walnut Ridge Lawrence
St. James Stone Tontitown Washington Waltreak Yell Arkansas
St. Joe Searcy Traskwood Saline War Eagle Benton
St. Paul Madison Trigg Miller Ward Lonoke
Stamps Lafayette Trumann Poinsett Warm Springs Randolph
Star City Lincoln Tucker Jefferson Warren Bradley
Stephens Ouachita Tuckerman Jackson Washington Hempstead
Steprock White Tull Grant Waterloo Nevada
Steve Yell Tulot Poinsett Watson Desha
Stonewall Greene Tumb. Shoals Cleburne Watson Chapel Jefferson
Story Montgomery Tupelo Jackson Waveland Yell
Strawberry Lawrence Turner Phillips Wayton Newton
Strickler Washington Turrell Crittenden Weathers Madison
Strong Union Twin Groves Faulkner Weiner Poinsett
Arkansas Town & County Listing
City/Town County City/Town County
Weldon Jackson Yellow Bend Desha
Wesley Madison Yellville Marion
Wesson Union Yorktown Lincoln
West Fork Washington Zinc Boone
West Helena Phillips Zion Izard
W. Memphis Crittenden
West Point White
West Ridge Mississippi
Western Grove Newton
Wheatley St. Francis
Wheeler Washington
Whelen Sprgs Clark
Whistleville Mississippi
White Hall Jefferson
Whitehall Poinsett
Whiteville Baxter
Wickes Polk
Wideman Izard Arkansas
Widener St. Francis
Wiederkehr Franklin
Wilburn Cleburne
Williford Sharp
Willisville Nevada
Wilmar Drew
Wilmot Ashley
Wilson Mississippi
Wilton Little River
Winchester Drew
Wing Yell
Winslow Washington
Winthrop Little River
Wiseman Izard
Witt Springs Searcy
Witter Madison
Wolf Bayou Cleburne
Woodson Pulaski
Wooster Faulkner
Wright Jefferson
Wrightsville Pulaski
Wynne Cross Arkansas