Why Would a Mortgage Lender Not Require Tax Returns?
Many mortgages are qualified mortgages that require Tax returns to determine your adjusted gross income after your expenses are deducted. Qualified mortgage lenders that make qualified mortgage loans are required to follow the rules set by the Consumer Financial Protection these qualified mortgages. These mortgage loans have a cap on points and fees and provide legal protections for the no tax return mortgage lenders.  One of these rules is that they must verify income using Tax returns!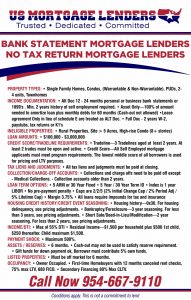 No Tax return mortgage lenders  want to make sure No Tax Return Mortgage Applicants can repay their mortgages. They use an average of bank statement deposits to verify the ability to make the mortgage payments.  Stable predicable deposits make lenders conformable enough to make these loans and can prove the No Tax Return Mortgage Applicants ability to repay the mortgage note.
Tax returns may not reflect a self-employed person's actual income. This is because self-employed mortgage applicants usually deduct as much business expense as possible to avoid a heavy tax burden. While these write offs lower the taxes they are required to pay it greatly reduces their purchasing power.  NO tax return mortgage lenders offer bank statement only loans to help these No Tax Return Mortgage Applicants qualify for mortgage loans.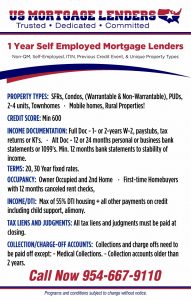 Eligible No Tax Return Mortgage Applicants:
 U.S. Citizens
 Permanent Resident Aliens

Inter Vivos Revocable Trust
 First Time Home Buyer (subject to maximum payment shock of 250%)
 Non-occupant co-borrower (reduce max LTV by 5%)
Ineligible No Tax Return Mortgage Applicants:
 Foreign Nationals
 Non-Permanent Resident Aliens
 Land Trusts
 LLCs, Corporations and Partnerships
 Nominee or Blind Trusts
No Tax Return Mortgage Applicants Lenders Explained

Loans meeting the parameters outlined in these guidelines are consistent with the Dodd Frank Wall Street Reform and Consumer Protection Act's requirement that a borrower have the Ability to Repay the mortgage loan. Documentation standards are designed so that loans are made to No Tax Return Mortgage Applicants who have demonstrated the ability and have the wherewithal to repay the debt. This program requires review and verification of documentation to ensure that the loan meets Ability-to-Repay (ATR) standards. In regard to any underwriting criteria not specifically addressed in this document, Fannie Mae standards apply.
Program Qualifications
This program is designed for No Tax Return Mortgage Applicants who are self-employed and would benefit from alternative loan qualification methods. Bank statements (personal and/or business) are used as an alternative to tax returns to document a self-employed No Tax Return Mortgage Applicants income. In addition, a self-employed borrower may supplement bank statement income with additional income derived from an asset amortization formula.
NOTE: Loans that are eligible for sale to a government-sponsored enterprise (GSE) – the Federal National Mortgage Association (Fannie Mae) or the Federal Home Loan Mortgage Corporation (Freddie Mac) – are ineligible for any NQM Series programs.
Age of Documentation Credit Report: Within 90 days of the Note Date
Income/Asset/Reserves Docs: The most recent bank statement(s) used for income qualifying must be dated
within the month preceding the Note Date. Statements used for assets/reserves must be dated within 60
days of the Note Date. When consecutive credit documents are in the loan file, the most recent document is
used to determine whether it meets the age requirement.
Title Report: Within 120 days of the Note Date
Appraisal: Within 120 days of the Note Date. If older than 120 days from the Note Date, but within the
preceding 180 days from the Note Date, the Appraisal Report may be used with an acceptable recertification
of value completed on Appraisal Update and/or Completion Report (Form 1004D). An Appraisal Update
and/or Completion Report must inspect the exterior of the property and review current market data to
determine whether the property has declined in value since the date of the original appraisal.

If the appraiser indicates on the Form 1004D that the property value has declined, a new appraisal
for the property must be obtained.

If the appraiser indicates on the Form 1004D that the property value has not declined, no additional
fieldwork is required.
Note: The appraisal update must occur within the 120 days that precede the date of the note and
mortgage
The original appraiser should complete the appraisal update; however, lenders may use substitute
appraisers. When updates are completed by substitute appraisers, the substitute appraiser must review the
original appraisal and express an opinion about whether the original appraiser's opinion of market value was
reasonable on the date of the original appraisal report. The lender must note in the file why the original
appraiser was not used.
Assets/Reserves
Loan Amount
Required Reserves (PITIA) for Subject Property
≤ $1,000,000
6 months
> $1,000,000 and ≤ $2,000,000
9 months
> $2,000,000
12 months
The ARM Qualifying Rate is used to determine P&I for subject property reserves purposes. See Income/DTI
section for requirements.
Marketable Securities: Use 70% of value. Marketable Securities are defined as legitimate stocks, bonds or
mutual funds that are publicly traded.
Retirement Accounts: Use 60% of the vested balance (net of any outstanding loans) for
IRA/SEP/Keough/401(k) accounts if not retirement age, or 70% if retirement age and no early withdrawal tax
penalty applies.
Business Assets: Business assets are an acceptable source for down payment, closing costs, and reserves
for self-employed borrowers. Ownership percentage of at least 50% and authority to access funds must be
documented via CPA Letter, Operating Agreement or equivalent. A third-party CPA/accountant/tax preparer
statement is also required to confirm that the use of the funds in the transaction will not have a material
impact on the business' operations. The balance of the business assets must be multiplied by the ownership
percentage to determine the owner's portion of the business assets allowed for the transaction. Large
deposits must be sourced to validate the funds are eligible.
Cash-Out for Reserves: Not allowed
Gift Funds for Reserves: Not allowed
Waiver of Reserves: Not allowed
Additional Financed Properties Requirements: 2 months PITIA for each additional financed property. PITIA
calculated using the actual mortgage payment (PITIA) of the "other" property for each additional property.