SELF-EMPLOYED TEXAS CASH-OUT REFINANCE UP TO 500K! : Fort Worth Texas, Austin Texas, Dallas Texas, San Antonio Texas,  Houston Texas NO DOC TEXAS COMMERCIAL MORTGAGE LENDERS:: 1 One Year Texas Self Employed Mortgage Lenders
Texas Bank Statement Mortgage for Self-Employed
How Do Bank Statement Loans Work?
A Bank Statement lender is often the only option for self-employed borrowers that take advantage of all the IRS tax deductions. The bank statement mortgage lender uses the borrower's business or personal bank statements deposit average to calculate their income without requiring tax returns or W-2s. 
What are the requirements for getting a Bank Statement Loan?
Up to 55% DTI 
No PMI.
30-Year Fixed or ARM Rates.
10% Down Payment for purchases and 90% LTV for refinances.
15% Down up to $3,000,000 Loan Amounts.
Minimum Loan Amount $100,000.
Purchase or Refinance and Cash-out is OK.
Primary residence and second homes and investments ok OK.
12 and 24 Month Bank Statements options.
Personal or Business Bank Statements or 1099's.
Must be Self Employed for at least 2 years.
No tax return requirements or filing are required.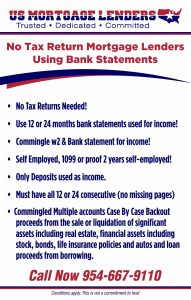 Qualifying for a Self-Employed Bank Statement Loan
Bank Statement Loans are utilized by a wide range of self-employed professionals, including Business owners, Freelance employees, Consultants, Contract workers, Independent contractors, Sole proprietors, Online retailers, Economy workers, Realtors, Entrepreneurs and many other types of self-employed people, etc… Being self-employed it can be difficult to obtain a mortgage. The facts are that most self-employed would agree that their tax returns don't really show their true income as many tend to write off many expenses over that a W-2 wage earner. Regardless of what you make for income, tax write-offs and deductions reduce your taxable income that can affect your debt-to-income ratios. As a result, your net taxable income (after deductions) may disqualify you for a traditional mortgage for purchasing and/or refinancing !
Self -Employed Texas Bank statement loans are popular with some of thes types of borrowers: