Purchase a Texas rural home, farmhouse, Barndominiums, ranch, vineyard, orchard, or more, can help.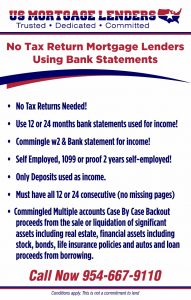 A Texas no-tax return rural mortgage loan allows you to purchase a Texas home using bank statements, 1099 or lease agreements for income. . Texas no-tax returns rural mortgage loans financing to qualified buyers. Texas no-tax return rural mortgage loans Loan Eligibility is determined by three factors:
TEXAS SELF EMPLOYED  MORTGAGE LENDERS OPTIONS INCLUDE:
10% Down with a 660 & 15% Down with a 600 Score!
No tax returns Needed! Proof of 2 years self-employed!
Owner-occupied, 2nd homes, and investment properties.
Loan Amounts From $150,000 to $3,000,000.
12 months personal or 24 months business bank statements
Debt to income up to 50% considered.
Choose either a 5/1 and 7/1 ARM'S and/or 30-year fixed.
No prepayment penalty for owner-occ and 2nd homes
Seller-paid closing cost allowed up to  6%. 
Business Bank Statement Expense Ratio Options Include:

4 Different Options For using Business Bank Statement Only!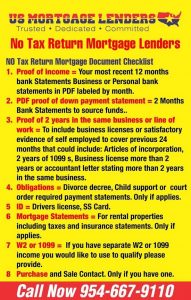 1) 3 MONTH BUSINESS STATEMENTS (24 Mo. Tax Preparer P&L)
2) BORROWER PREPARED P&L (24 Mo. Business Statements)
3) 24 MONTH BUSINESS STATEMENTS (Tax Preparer Expense Letter)
3) 24 MONTH BUSINESS STATEMENTS (50% Of gross income used No questions asked)
12 or 24 Month Texas Rural Land Bank Statement Home Loan Program.
Texas Rural Land Bank Only (Personal or Business) 

No Tax Returns No Tax Transcripts Required
12 Month Bank Statements Now Available
24 Months Bank Statements (Personal Or Business)
Texas Jumbo Bank Statement Loans Up To $5 million
(Min Bank Statement Only Texas Loan Amount $100,000)
Credit Scores Down To 600
Rates Starting In The Low 5's
Personal + Business+ W2 Income Or Mixed Deposits OK!
DTI up to 50% Considered!
Owner-Occupied, 2nd Homes, Investment Properties
Foreclosure, Short-Sale, BK, DIL – OK!!
Non-Warrantable Condos – OK!
5/1 ARM 7/1 ARM Or 30-Year Fixed
Gift Funds Allowed
No Pre-Payment Penalty 
or Owner-Occ And 2nd Homes + Investment!
SFRs, Townhomes, Condos, 2-4 Units
Seller Concessions To 6% (2% For Investment)
Mix Of Both Personal And Business Texas  Bank Statement Deposits OK!
Eligibility Requirements for a Texas  Bank Statement Mortgage Loan?
Eligibility for a bank statement requires total deposits minus disallowed deposits. This amount is then divided by the number of bank statements, whether it is the 12 or 24 months statement.
Another option is that if the co-borrower is a W2 employee you can use a hybrid of W2 and tax return income from the co-borrower and bank statement income from the borrower or assets from the co-borrower and bank statements from the borrower. Non-QM loans can use multiples sources of blended incomes to qualify.
Deposits which are disallowed in regards to a bank statement loan include transfers between bank accounts and cash or large deposits, which can raise a level of concern and may require a letter of explanation.
Special Considerations By Bank Statement Mortgage Lenders
You can use either business or personal no commingling.
Use 12 months business bank account or personal account depending on the lender.
Deposits which are transferred from a business account into a personal account are OK.
You may combine W2 income with bank statement income as long as the income is not being counted twice.
Foreign Bank Statements and Foreign Assets may be considered and must be translated to English.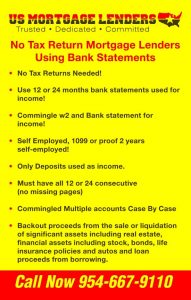 Bank Statement Only Texas borrowers that can document their income by providing the following:
NO TAX RETURN TEXAS MORTGAGE LENDERS 
12 OR 24 Months Texas Bank Statement Only Employment Types:
Self Employed
1099
o Must provide business license, Tax Preparer's NOT Audited letter or corporate paperwork.
Texas Bank Statement Only mortgage lenders will accept Personal or Business Bank Statements.  However, qualifying income will be calculated differently.
Texas Personal Bank Statements:  100% of Deposits- Add all deposits for all 24 months and divide that amount by 24 to receive the monthly income amount we will apply as the borrower's qualifying income.
Ex. 24 months deposits total = $200,000 / 24 = $8,333 a month income.
Texas Business Bank Statements:  50% of Deposits- Add all deposits for all 24 months, divide by 2, and then divide by 24 to receive the monthly income amount we will give to the borrower.
Ex. 24 month deposit total = $500,000 / 2 = $250,000 / 24 = $10,333 a month income. * Only 50% is used because we have to assume the business has overhead.
SERVING ALL TEXAS RURAL CITIES INCLUDING 
Anderson
Andrews
Aransas
Archer
Armstrong
Atascosa
Austin
Bailey
Bandera
Baylor
Bee
Blanco
Borden
Bosque
Brewster
Briscoe
Brooks
Brown
Burleson
Burnet
Caldwell
Calhoun
Callahan
Camp
Carson
Cass
Castro
Chambers
Childress
Clay
Cochran
Coke
Coleman
Collingsworth
Colorado
Comanche
Concho
Cooke
Cottle
Crane
Crockett
Crosby
Culberson
Dallam
Dawson
Deaf Smith
Delta
DeWitt
Dickens
Dimmit
Donley
Duval
Eastland
Edwards
Erath
Falls
Fannin
Fayette
Fisher
Floyd
Foard
Franklin
Freestone
Frio
Gaines
Garza
Gillespie
Glasscock
Goliad
Gonzales
Gray
Grimes
Hale
Hall
Hamilton
Hansford
Hardeman
Hartley
Haskell
Hemphill
Hill
Hockley
Hopkins
Houston
Howard
Hudspeth
Hutchinson
Irion
Jack
Jackson
Jasper
Jeff Davis
Jim Hogg
Jim Wells
Jones
Karnes
Kendall
Kenedy
Kent
Kimble
King
Kinney
Kleberg
Knox
La Salle
Lamar
Lamb
Lampasas
Lavaca
Lee
Leon
Limestone
Lipscomb
Live Oak
Llano
Loving
Lynn
Madison
Marion
Martin
Mason
Matagorda
McCulloch
McMullen
Medina
Menard
Milam
Mills
Mitchell
Montague
Moore
Morris
Motley
Navarro
Newton
Nolan
Ochiltree
Oldham
Palo Pinto
Panola
Parmer
Pecos
Polk
Presidio
Rains
Reagan
Real
Red River
Reeves
Refugio
Roberts
Robertson
Runnels
Sabine
San Augustine
San Jacinto
San Saba
Schleicher
Scurry
Shackelford
Shelby
Sherman
Somervell
Stephens
Sterling
Stonewall
Sutton
Swisher
Terrell
Terry
Throckmorton
Titus
Trinity
Tyler
Upshur
Upton
Uvalde
Val Verde
Ward
Washington
Wharton
Wheeler
Wilbarger
Willacy
Wilson
Winkler
Wood
Yoakum
Young
Zapata
Zavala