Proof of income = Your most recent 12- or 24-months bank Statements Business or Personal bank statements EVERY PAGE EVEN BLANKS in PDF labeled by month.
PDF proof of down payment statement= 2 Months Bank Statements to source funds..
Proof of 2 years in the same business or line of work = To include business licenses or satisfactory evidence of self-employed to cover previous 24 months that could include: Articles of incorporation, 2 years of 1099 s, Business license more than 2 years or accountant letter stating more than 2 years in the same business.
Obligations = Divorce decree, Child support or court order required payment statements. Only if applies.
ID = Driver's license, SS Card.
Mortgage Statements = For rental properties including taxes and insurance statements. Only if applies.
W2 or 1099= If you have separate W2 or 1099 income you would like to use to qualify please provide it.
Purchase and Sale Contract. Only if you have one.
Verified Timely Rent Payments- For Purchases Only – Please send front and back of checks clearing your account or wire transfers for the most recent 12 months to verify timely rental payments.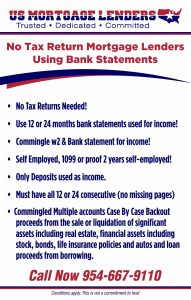 No Tax Return North-South Carolina  Mortgage Lenders Options
Use Personal Bank Statements: You can qualify using 12 or 24 months bank statements and use Up To 100 percent of deposits if they came from a Business Bank Account.
Use Business Bank Statements: You can qualify with 12 or 24 months of bank statements and count up to 90% percent of the deposits. A self-employment questionnaire is usually required to determine your income. For example, if you are a 1099 realtor with no money for rent, or cost you can use up to 90% of your income to qualify.
Use 1099s For Income: Some lenders will allow 2 years of 1099s and 2 months of recent bank statements along with a bank statement questionnaire to understand your expenses.
Use Lease Agreements: As long as the lease agreements are enough to cover the mortgage payments lenders will lend up to 80% loan to value with no income verification needed.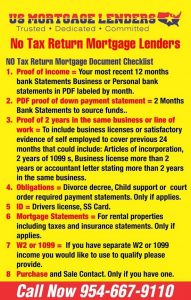 Who Qualifies For A Bank Statement Mortgage?
Our bank statement mortgage lenders provide funding for business owners throughout the Carolinas. You must have a good payment history and good deposits but don't have traditional income and wouldn't qualify for standard bank loan financing. To qualify for our No Tax return bank statement mortgage you'll need the following:
Minimum of 1-year same line of work 2+ years.
Minimum 550 middle credit score.
Minimum 10% down payment+ Closing Cost + Reserves. reserves are defined as the total mortgage payment PITI in your account after closing.
Minimum 3-6 Months Reserves.
Minimum 12 months since any housing events ( Foreclosure, Bankruptcy Discharge, Short Sale )
Maximum DTI 55% Bank statement only mortgage lenders will allow the self-employed to qualify up to 55% of their total income for housing and all other monthly payments on their credit report.