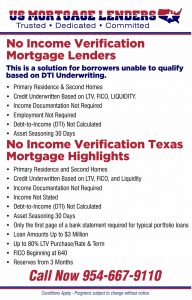 For borrowers unable to qualify based on DTI Underwriting.
Primary Residence & Second Homes
Credit Underwritten Based on LTV, FICO, and Liquidity
Income Documentation Not Required
Employment Not Required
Debt-to-Income (DTI) Not Calculated
Asset Seasoning 30 Days
DOWNPAYMENT & RESERVES ARE SUBJECT TO CHANGE:

No Income Verification Florida Mortgage Highlights
Primary Residence and Second Homes
Credit Underwritten Based on LTV, FICO, and Liquidity
Income Documentation Not Required
Income Not Stated
Debt-to-Income (DTI) Not Calculated
Asset Seasoning 30 Days
Only the first page of a bank statement required for typical portfolio loans
Loan Amounts Up to $3 Million
Up to 80% LTV Purchase/Rate & Term
FICO Beginning at 640
Reserves from 3 Months
No Income Approvals Based On 1. Fico 2. Liquidity
Self-Employed/Small Business Owner
Volatile or Irregular Employment
Retired
Seasonal & Gig Workers
Real Estate Investors
Owners & Employees of Cash Businesses
Change of Industry or type of
Employment
Transitioning from Recent Health, Family,
or Other Life Events
Looking to Unlock Trapped Home Equity
Recent Immigrant
CLOSE FASTER – CONFIRM LTV – CONFIRM FICO –  VERIFY RESERVES
Elimination of "feel good" conditions
Only the first page of a bank statement is required for typical portfolio loans
No overlays on agency and government loans
White-Glove Concierge Desk services
Leading-edge technology
ADDITIONAL CREDIT REQUIREMENTS
No Mortgage or Rental Late payments in the last 12 months.
Foreclosure, Short Sale,  require 12 months of seasoning
Bankruptcy must be discharged or settled.
Assets must be sourced or seasoned for 30+ Days.
Texas Cashout A6 Not permitted.
US Citizen Permanent Resident Alien, Non-Permanent Resident Alien with US Credit Report
Maximum 20 properties including subject property.
Primary and Second Homes Only
No PRepayment penalty
SFR, PUD, Townhome, Condo, Non-Warrantable COndo max 65% 2-4 unite Modular, Rural, Log homes.
Manufactured homes Not Eligible
Seller-paid closing cost up to 6%
No Income Verification Mortgages
No Income Verification mortgage program is a perfect fit for investors who don't qualify for traditional financing based on their tax returns. The loan is qualified based on the value of the property and/or anticipated income the property will generate. You won't be asked to submit documents and forms you don't have. Self-employed borrowers should also review our Bank Statement program. 
Florida Bank Statement Mortgage Lenders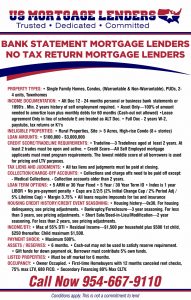 What is a Florida Bank Statement Loan?
Bank statement loans have taken over the traditional Bank Statement income loans as an alternative for self-employed Florida mortgage applicants who are unable to verify their income by providing the previous two years' tax returns, W2s, and pay stubs. These loans are called non-QM loans, nontraditional loans or expanded criteria loans that allow other forms of documentation to prove the ability to repay. Just as it sounds, a bank statement loan allows the borrower to verify his or her income with bank statements
Eligible for a Florida bank statement loan:
You must prove self-employment for a minimum of 2 years.

Must provide proof of 12-month rental history.

You must have at least 10% down.

You must provide proof of  4-6 months of PITI reserves

You may qualify with as little as a 12-months bank statement.

You must have a credit score of 600 or above to qualify.

The minimum loan amount is $100,000, and the maximum loan is $5,000,000.
What Do I need for a Bank Statement only Mortgage?
Proof of income = Your most recent 12- or 24-months bank Statements Business or Personal bank statements EVERY PAGE EVEN BLANKS in PDF labeled by month.
PDF proof of down payment statement= 2 Months Bank Statements to source funds..
Proof of 2 years in the same business or line of work = To include business licenses or satisfactory evidence of self-employed to cover previous 24 months that could include: Articles of incorporation, 2 years of 1099 s, Business license more than 2 years or accountant letter stating more than 2 years in the same business.
Obligations = Divorce decree, Child support or court order required payment statements. Only if applies.
ID = Driver's license, SS Card.
Mortgage Statements = For rental properties including taxes and insurance statements. Only if applies.
W2 or 1099= If you have separate W2 or 1099 income you would like to use to qualify please provide.
Purchase and Sale Contact. Only if you have one.
Verified Timely Rent Payments- For Purchases Only – Please send front and backs of checks clearing your account or wire transfers for the most recent 12 months to verity timely rental payments.
What Are the Advantages of a  Florida Bank Statement Loan?
In summary, these are the advantages of a bank statement loan:
The lender can look at 12 or 24-month bank statements.

30 Year Fixed Options.

Bank statement only mortgage lenders do not need to look at your tax returns.

Your income statements are made up of the average monthly income deposits.

You can get a bank statement home loan for as little as 10 percent down.

You can do a cash-out refinance.

You can borrow up to $5 million.

Debt to income ratio up to 55 percent.
Requirements for a Bank Statement Mortgage Loan?
Eligibility for a bank statement requires total deposits minus disallowed deposits. This amount is then divided by the number of bank statements, whether it is the 12 or 24 months statement.
Another option is that if the co-borrower is a W2 employee you can use a hybrid of W2 and tax return income from the co-borrower and bank statement income from the borrower or assets from the co-borrower and bank statements from the borrower. Non-QM loans can use multiples sources of blended incomes to qualify.
Deposits that are disallowed in regards to a bank statement loan include transfers between bank accounts and cash or large deposits, which can raise a level of concern and may require a letter of explanation.
Considerations By Bank Statement Mortgage Lenders
You can use either business or personal no commingling.

Use 12 months business bank account or personal account depending on the lender.

Deposits which are transferred from a business account into a personal account are OK.

You may combine W2 income with bank statement income as long as the income is not being counted twice.

Foreign Bank Statements and Foreign Assets may be considered and must be translated to English.
NO INCOME VERIFICATION MORTGAGE FLORIDA
A no income verification Florida mortgage is meant for mortgage applicants that do not show their true income on their tax returns. Mortgage applicants who want to buy or refinance a primary residence or second home but cannot provide the property bank documents to qualify for a mortgage using tax returns, W2's, 1099 or bank statements. These mortgage applicants are usually turned down by most banks and lenders.
NO INCOME AND BANK STATMENT MORTGAGE COVERAGE AREAS